FIELDS OF EXPERTISE:
Market research
Economy + trade
Medicine + pharmaceutics
Travelling + tourism
Humanities + social sciences
LANGUAGE DIRECTIONS:
English-German
German-English
French-German
Dutch-German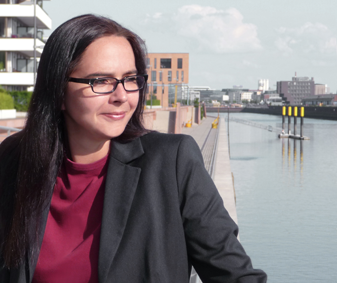 I acquired my practical language qualifications for translating English and French in my training as a state approved commercial language assistant. Due to my Dutch-German family background I have profound knowledge of Dutch.
My professional life in companies operating on international level and using English as their corporate language allowed me to enhance my knowledge of my core language English: I worked as a consultant in order processing and as a team leader for international market research studies. In the event industry, I first worked as a team leader and finally as an operations assistant with a focus on process optimization.
My studies of English and German helped me to extend and enhance my language skills as well as my cultural competence. Besides, I regularly practiced my language skills as a freelance language teacher and lecturer for German, English, French, Dutch and Latin.
I improved and developed my language skills as well as my cultural competence by regularly travelling to the U. S., to Great Britain, France and the Benelux countries.
In more than 4 years of professional experience in market research and 6 years in the event industry I gathered experiences as to editorial skills, direct business and commerce. I have substantial knowledge of office and process management as well as of project-based work.
I have always had a passion for foreign languages, and therefore you can be sure to have found an expert translator and editor who pays attention to detail and does her job with enthusiasm and commitment.
My profound background knowledge in my areas of translation and editing guarantees a high-quality work in terms of language and subject.
DER SICHERE UMGANG MIT IHREN DATEN!
The protection of personal data is of important concern to me and I strictly adhere to the data protection laws. Personal data is processed on this website only to the technically necessary extent. Your personal data will under no circumstances be transferred to third parties for any reasons.
All client data and texts are saved on data carriers or back-up media protected by a password. Personal data are in no case stored in a cloud but are encoded in my own IT infrastructure. The encryption standards (256 BIT AES) are in line with the recommendations of ENISA, the European Union Agency for Network and Information Security, on cryptographic solutions for the encryption of long-term data storage. Your personal data are safe even in the case of theft of my data media. To ensure secure data transfer, you can also send your files in a password-protected zip archive.
As I have regularly participated in trainings on PCI Security Standards (a strict and worldwide standard on technical, legal and organisational data security), I am able to recognize and to react to possible threats.
PROFESSIONAL TRANSLATIONS: ENGLISH, FRENCH, DUTCH, GERMAN
BESIDES TRANSLATING GENERAL LANGUAGE TEXTS I SPECIALISE IN THE FOLLOWING AREAS OF TRANSLATION:
MARKET RESEARCH
Translation of questionnaires, guidelines, interviews, notes; particular specification: content analysis directly translated into the target languages English or German
ECONOMY + TRADE
Translation of general financial articles, image brochures, product brochures, customer magazines, company magazines, press releases, product information, operating instructions and manuals, catalogues, etc. 
MEDICINE + PHARMACEUTICS
Translation of medical articles, questionnaires, texts on general medical issues, e. g.: allergies, strokes, diabetes, etc.
TRAVELLING + TOURISM
Translation of travel brochures, travelogues, etc.
HUMANITIES + SOCIAL SCIENCES
Translation of essays, research and term papers, theses and dissertations, draft papers, etc.; I also offer editing services in these areas.
I translate from English, French and Dutch into my native language German, and in cooperation with English native speakers from German into English. I am happy to help you find qualified colleagues for translations requiring other language combinations.
FOR CUSTOMERS SUCH AS …
Krämer Marktforschung GmbH

Cido Research GmbH

Nebojša Tabački, Dr. Ing.: "Kinetische Bühnen. Sean Kenny und Josef Svoboda – Szenografen als Wiedererfinder des Theaters", transcript Verlag 2014 (Mitwirkung am Lektorat)

Prof. Natascha Korff, Universität Bremen, Erziehungs- und Bildungswissenschaften
… I WORK ON THE FOLLOWING TYPES OF TEXT:
Market research studies
Guidelines and manuals
Directions and operation instructions
Scientific papers (primarily humanities & social sciences)
Medical texts of various type
Information leaflets
Brochures
etc.
I PROCESS SOME ORDERS ON BEHALF OF TRANSLATION AGENCIES; AS A RULE THEY PREFER TO REMAIN ANONYMOUS.
This includes agencies in:
Great Britain
Germany
France
the Netherlands
CUSTOMER VIEWS:
"The cooperation with Ramona has always been enriching. She did not only edit my texts competently and always on time; she also ensured that my writing style has continuously upgraded and improved. The quality of my scientific texts has enormously profited from her important suggestions and corrections. I would not hesitate to engage her again as an editor." 
Nebojša Tabački, Dr.-Ing.
(Author of  "Kinetische Bühnen", transcript 2014)

"The translations Ramona does for us are always perfect and accurate, so we unhesitatingly integrate them into our workflows without further examination or proofreading."
Helmut Hacker, Back Office Manager, Cido Research GmbH

"Ramona translates individual interviews and group discussions for us. She finds appropriate translations for demanding conversations and complex subjects, so that participants can easily recognize their arguments – and even those who did not attend the conversation get a vivid impression of the situation."
 Diana Padial, Unit Manager Recruiting, Krämer Marktforschung GmbH

Ramona has proofread and revised various scientific texts for me. Beyond her competence and precision in text editing, the cooperation with Ramona is characterized by very transparent feedback as to her revisions. The same is true for her probing, for example, on special citation style cases and the requested standardization of specific formalities. Her feedback is balanced as to conciseness and informative content, so that I can easily keep track of the decisive steps without having to deal with the revisions in detail. Her editing accuracy never ceases to amaze me. Ramona's job performance means a considerable relief for my work, and I can always feel certain that editors as well as publishers have no reason to object to the texts she reviewed for me.
 Prof. Natascha Korff, University of Bremen
TRANSLATION
| | |
| --- | --- |
| ENGLISH: | |
| Minimum charge*   10,00 €  | Price per word*  0,07 € to 0,11 € |
| FRENCH: | |
| Minimum charge*   10,00 € | Price per word*  0,09 € to 0,13 € |
| DUTCH: | |
| Minimum charge*   10,00 € | Price per word*  0,09 € to 0,13 € |
*plus VAT 19 % if you are situated in Germany
Die Abrechnung erfolgt in der Regel basierend auf dem Ausgangstext. Die hier angegebenen Preise sind Nettopreise zzgl. Mehrwertsteuer.
Alle Preise sind als Richtwerte zu verstehen. Grundsätzlich kann ein verbindliches Angebot erst nach Kenntnis aller relevanten Faktoren wie Textsorte, Umfang, Schwierigkeitsgrad u. ä. erfolgen.
EDITING
| | |
| --- | --- |
| Minimum charge* | 10,00 € |
| Price per hour* | 37,00 € |
| Price per page* | |
| up to 9 standard pages** | 37,00 € |
| 10 to 24 standard pages** | + 3,00 €  / page |
| 25 to 49 standard pages** | + 2,75 €  / page |
| 50 to 99 standard pages** | + 2,50 €  / page |
| 100 to 150 standard pages** | + 2,25 €  / page |
*plus VAT 19 % if you are situated in Germany
**A standard page includes 30 lines and 55 characters each.
Prices are stated net plus value added tax at the currently applicable statutory rate, and relate to editing scientific papers. All prices stated here are for reference only, and may vary according to the volume and complexity of your text. Before I can submit a binding offer, all relevant factors such as text type, difficulty and deadline must be taken into consideration.
PRIVACY POLICY
Service provider according to § 13 German Telemedia Act (Telemediengesetz, TMG) and responsible entity according to § 3 (7) of the German Federal Data Protection Act (Bundesdatenschutzgesetz, BDSG):
Ramona Bongard
Neustadtscontrescarpe 120,
D – 28199 Bremen,
Fon + 49 (0) 421 6 99 33 70,
ramona.bongard@rb-translations.eu
Security and data privacy
Thank you for your interest in my website. Your privacy is very important to me, thus I take the protection of your personal data very seriously. My website https: //www.rb translations.eu is intended to facilitate access to my information and services. I reserve the right to change the information on this website at any time without prior notice. I carefully monitor the accuracy, up-to-datedness, completeness, comprehensibility and availability of the information provided. This Privacy Policy explains the nature, scope, and purpose of the processing of personal data within my website.
Please note the following when using my website:
General information on data processingg
Legal basis of the processing
To the extent that permission of the affected individual is obtained for the processing of personal data, Article 6 (1) lit. a of the EU General Data Protection Regulation (GDPR) serves as the legal basis.
In the processing of personal data to fulfil a contract whose contractual party is the individual affected, Article 6 (1) lit. b GDPR serves as the legal basis. This also applies to processing required to implement pre-contractual measures.
Insofar as processing of personal data is required to fulfil a legal obligation, Article 6 (1) lit. c GDPR serves as legal basis.
If processing is required to safeguard the justified interest of the MPG or a third party and the interests, basic rights and basic freedoms of the affected individual do not outweigh the first-mentioned interest, Article 6 (1) lit. f GDPR serves as the basis for such processing.
Data deletion and storage duration
The affected individual's personal data are deleted or blocked as soon as the purpose of the storage ceases to apply (Article 17, 18 GDPR). Storage can also occur if provided for by European or national legislators in EU regulations, acts or other legislation to which I am subject. A blocking or deletion of data then occurs only if a storage period prescribed by one of the aforementioned norms expires, unless a necessity exists in relation to the further storage of the data for the arrangement of a contract or the fulfilment of a contract.
§ 257 (1) of the German Commercial Code (Handelsgesetzbuch, HGB) stipulates a retention period of 6 years for account books, inventories, opening balance sheets, annual financial statements, business letters, accounting vouchers etc.. § 147 (1) of the German Tax Code (Abgabenordnung, AO) stipulates a retention period of 10 years for account books, records, progress reports, accounting vouchers, business and commercial letters as well as any tax-relevant documents etc.
Administration, financial accounting, office and contact management
I process data in connection with administrative tasks as well as business administration, financial accounting and compliance with legal requirements, e.g. on archiving and data retention. The data processed in that context are the same data processed for the fulfilment of my contractual obligations. The legal basis for such processing is Article 6 (1) lit. c and f GDPR. Data subjects concerned include customers and clients, interested parties, business partners and visitors to my website. The purpose of and my legitimate interest in such processing includes administration, financial accounting, office management and data archiving, i.e. tasks supporting my business operations, the performance of my obligations and the provision of my services. Data deletion regarding contractual obligations, services and communication conforms to the information given herein with respect to these processing activities. In this context, I transmit data to the financial authorities, consultants (e.g. tax advisors, auditors), and further toll agencies and payment services providers.
Collection of personal data on this website
Use for information purposes (Server Log Files)
If you use this website for information purposes only, i.e. if you do not register or provide information by other means, I only collect the personal data transferred by your browser and required for technical purposes to display my website and guarantee its stability and security. The following data are traced in server log files:
IP address
date and time of the query
time zone difference (GMT)
content of the request (specific page)
access status/HTTP status code
data volume transferred
requesting provider
browser name
operating system
language and version of the used browser software
These data are not combined with other data sources. Recording data as well as the storage of these data in log files are essential for the availability, operation and security of this website. The legal basis is article 6 (1) lit. f GDPR. The operator of this website reserves the right to check the log files in the event of any reference to illegal use.
Use of cookies
My website uses cookies.  Cookies are small text files stored on your hard drive and assigned to the browser you use. These files provide specific information to the entity that sets the cookie. Cookies can neither run programmes nor transfer any viruses to your computer. If a user visits a website, a cookie can be stored on the user's operating system. This cookie contains a sequence of characters, which clearly identifies the browser when you return to my website. I deploy cookies to make my website more user-friendly. The legal basis for the use of cookies on my website is Article 6 (1) lit. f GDPR.
I make use of session cookies to operate my website. These cookies store a so-called session ID which can be used to assign different queries from your browser to the joint session. As a result, your computer can be recognized if you return to the website. As soon as you close the browser, the session cookies are deleted.
You can readjust your browser settings and, for instance, reject the acceptance of cookies. In this case, please note that you may not be able to use all the functions of this website.
Making contact / contact form
When you contact me (e.g. by contact form, e-mail, phone, social media) the data you provide me with are processed to answer your questions resp. to deal with your contact request in compliance with Article 6 (1) lit. b GDPR.
The data you provide me with by contacting me via the contact form are only used for responding to your request as well as for pursuant technical administration. This information is not disclosed to third parties. The data shall be deleted as soon as they are no longer required.
Plugins and Tools
Use of Google Fonts
On this website, external fonts – Google Fonts – are used. Google Fonts is a service of Google Inc. The integration of these web fonts is done by a server call, usually a Google server in the USA. The server will automatically receive the information which of my webpages you have visited. In addition, the browser IP address of the visitor's terminal device is stored by Google. For more information, please see the Google Privacy Policy:
www.google.com/fonts#AboutPlace:about
www.google.com/policies/privacy/
Google reCAPTCHA
I make use of Google reCAPTCHA on my website. The provider is Google Inc., 1600 Amphitheatre Parkway, Mountain View, CA 94043, USA.
reCAPTCHA crosschecks whether the data entry on my webpages (e.g. in a contact form) is effected by a human or by an automated programme. For this purpose, reCAPTCHA analyses the behaviour of the website visitor based on various characteristics. This analysis starts automatically as soon as the website visitor accesses the website. For this analysis, reCAPTCHA evaluates various information (e.g. IP address, the time spent on the website, user mouse movements). The data collected within this analysis are forwarded to Google.
reCAPTCHA analyses are effected in the background. It is not indicated to website visitors that an analysis is taking place.
Data processing is effected on the basis of Article 6 (1) lit. f GDPR. The website operator has a legitimate interest in protecting her website from abusive automated spying and spamming. Further information on Google reCAPTCHA, as well as the Google Privacy Policy, can be found here: https://www.google.com/intl/de/policies/privacy/
https://www.google.com/recaptcha/intro/android.html
Cooperation with contract processors
If I disclose data to other persons and companies (contract processors or third parties) within the scope of my processing, transmit data to them or otherwise grant them access to data, this shall only take place based on a legal permission. This applies, for instance, if a transmission of the data to third parties, such as payment service providers, according to Article 6 (1) lit. b GDPR, is required for contract fulfilment, if you have consented, if a legal obligation provides for this or on the basis of my legitimate interests (e.g. when using agents, web hosts, etc.). If I mandate third parties with the processing of data based on a so-called "order processing contract", this is effected according to Article 28 GDPR.
Data transfer to third countries
If I process data in a third country (i.e. outside the European Union (EU) or the European Economic Area (EEA)) or if this occurs in the context of the use of third party services or disclosure respectively transfer of data to third parties, this will only take place for the fulfilment of my (pre)contractual obligations, based on your consent, on a legal obligation or on my legitimate interests. Subject to legal or contractual permissions, I have data processed in a third country only if the special requirements of Article 44 ff GDPR are met. This means, for instance, processing is carried out based on special guarantees, such as the officially approved determination of a data protection level corresponding to the EU (e.g. for the USA by the "Privacy Shield") or compliance with officially approved special contractual obligations (so-called "standard contractual clauses").
Hosting
The hosting services I use are for providing the following services: infrastructure and platform services, computing capacity, storage and database services, security and technical maintenance services to operate this online service.
I or my hosting provider process inventory data, contact data, content data, contract data, usage data, meta and communication data of customers, interested parties and visitors to this website – based on my legitimate interests in an efficient and secure provision of this website in accordance with Article 6 (1) lit. f GDPR in conjunction with Article 28 GDPR.
Modification of the data protection regulations
I reserve the right to update this data privacy statement at any time, especially if it becomes necessary due to developments or changes in legislation or jurisdiction. The same applies for modifications or changes of my services. In this case, the new data privacy statement will automatically apply to your next visit.
Right of information and objection
You have the following rights as to your personal data:
right of information
right of correction or deletion
right to restrict the processing
right to object to the agreement
right of data portability
You may withdraw your consent to the use of your data at any time.
Your confidence is important to me. Please send all enquiries, requests for information, or objections to data processing by e-mail ton ramona.bongard@rb-translations.eu